Delta Waterfowl
20% off your first year of HuntStand Pro
HuntStand's advanced mapping tools and powerful layers make us the #1 hunting and land management app in the country. HuntStand Pro takes these features to the next level with Real 3D, which allows you to fly through places you would like to explore virtually. Advanced layers enable you to access national databases that include public hunting land, tree coverage, satellite images, map markers and lines, and area measurements. Harvest information, weather, news feeds, group message boards, friend finder, and much more will make this your must-have hunting app. Make this hunting season your best season with HuntStand Pro!
Buy now at the exclusive Delta Waterfowl price of only $23.99 USD for your first year. That's 20% off! Every purchase will support Delta Waterfowl's mission to produce ducks and secure the future of waterfowl hunting.
HuntStand Pro Features
We believe that access to great information should be widely accessible and affordable. Upgrade to HuntStand Pro to unlock some amazing features and tools including:
Advanced Property Search
NEW
Searching out new hunting land? Trying to find that piece of property your neighbor said you could hunt on? Advanced Property Search is a very powerful new feature that allows you to easily search and view results in our entire nationwide ownership database.
Search HuntStand's nationwide property database by owner name, address, county, state, acreage, proximity to the user and more.
Users can also search for other parcels associated with the same owner and mailing address. This is particularly useful for identifying large tracts of land made up of numerous parcels under the same owner.
Search results can be viewed on a map overlay, or in a list view.
Save the boundaries of any result to your custom map or hunt area.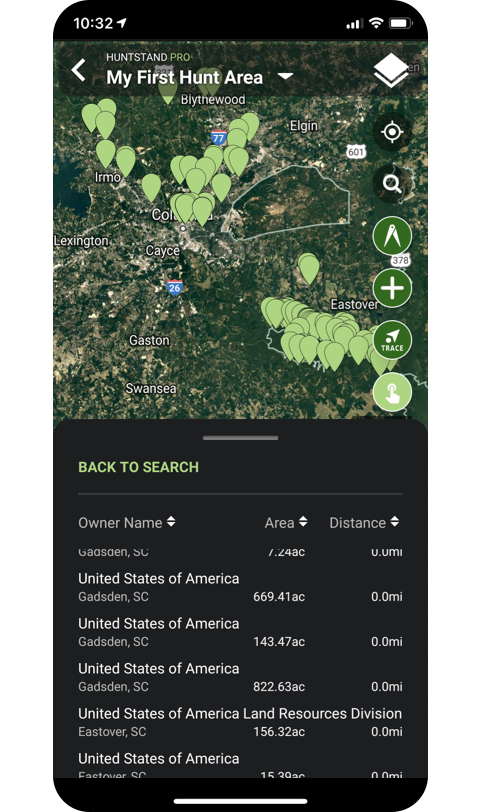 Weather maps
HuntStand now offers universal weather overlays showing current conditions and forecasts! These overlays will appear over any base layer and can be accessed through the weather icon in the bottom right hand corner of your screen (Android/IOS only). View current maps or forecasted maps hourly and up to 5 days out. Click on the "Weather Layers" popup to toggle layers on and off. Click on "Detailed Forecast" to view our traditional weather forecast screens.
Available weather overlays include:
Radar
Precipitation
Snow accumulation
Temperatures
Fires
Drought Monitor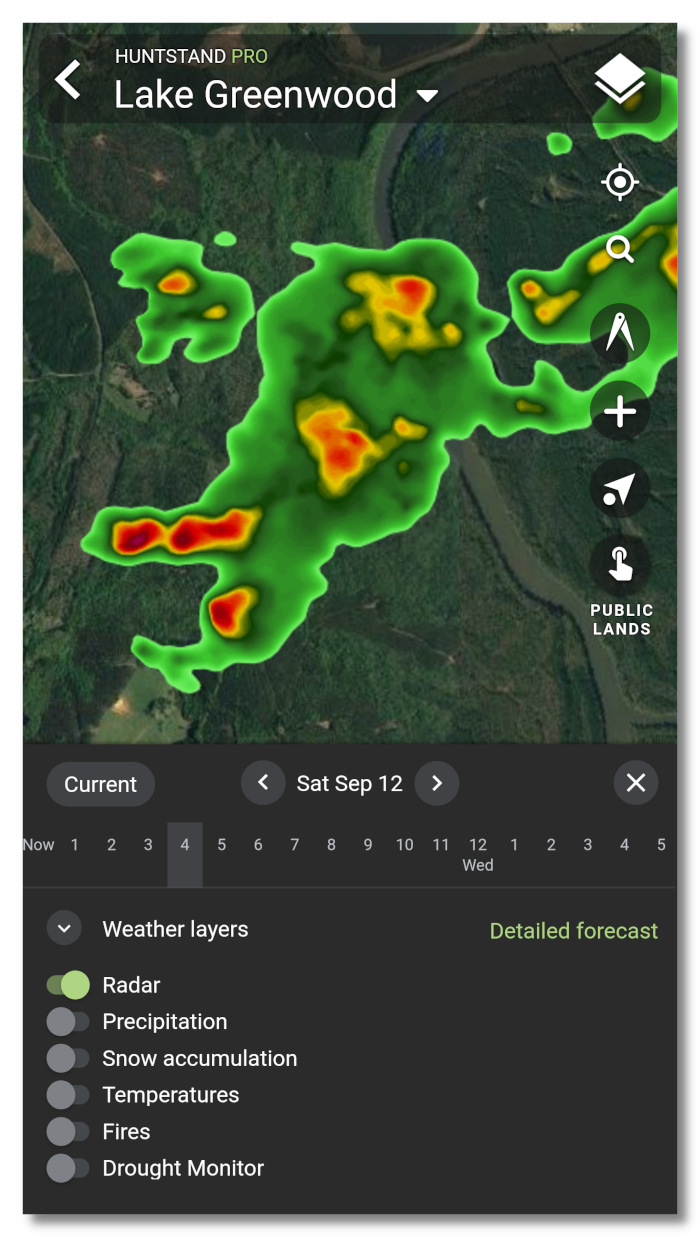 Nationwide Property Information for the U.S.
High accuracy property boundaries
Up-to-date owner name for private and public land parcels
Property address
Owner mailing address
Property area and perimeter length
Save and share boundaries
Searchable by address or coordinates
Property boundaries for much of Canada. See the coverage map below.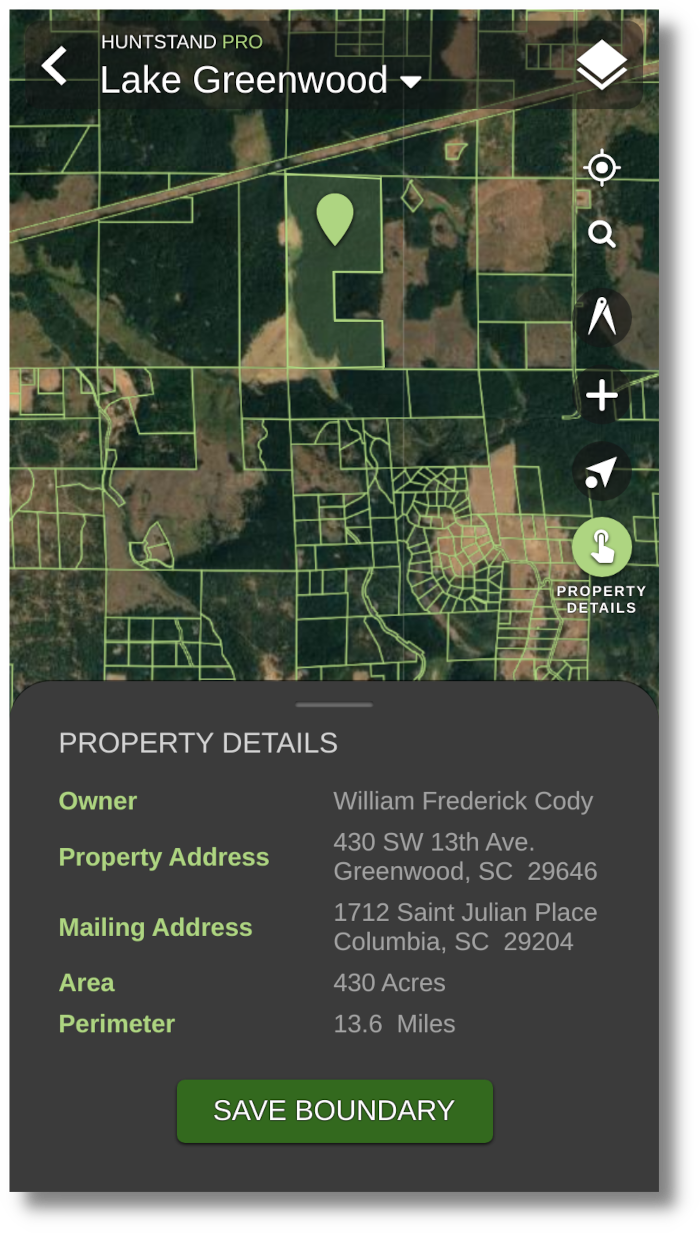 Monthly Satellite Imagery
A limitation of more traditional mapping layers has been their recency -- often updated only every 2-3 years, leaving a major blindspot for hunters and outdoor enthusiasts. HuntStand Pro offers a monthly satellite imagery layer which gives you an up-to-date view of your property. This layer is lower resolution than our traditional layers, but trades clarity for recency.
This feature is great for viewing:
Timber thinning / clear cuts
Fires and burns
Flooding
Agricultural activity
Snow and ice cover
Swipe left/right to compare
Public Lands
Forest Service
National and State Parks
Bureau of Land Management
U.S. and State Fish & Wildlife
U.S. and State Department of Natural Resources
State Land Board
County Land
City Land
Non-Governmental Organization (NGO)
Department of Defense (DOD)
State Department of Conservation
State Department of Natural Resources (DNR)
State Department of Land
Department of Energy (DOE)
Federal Land
American Indian Lands
Bureau of Indian Affairs
National Forests
National, State, County, and City Parks
National and State Wilderness Areas
National Wildlife Refuges
National Monuments and Landmarks
National, State, Local, and Private Conservation Areas
National, State, and Local Conservation Easements
National, State, Local, and Private Recreation/Education Areas
Federal and State Resource Management Areas
National, State, and Local Easements
Wild and Scenic Rivers
National Public Lands
National Grasslands
Watershed Protection Areas
Inventoried Roadless Areas
Access Areas
*Not Available in Canada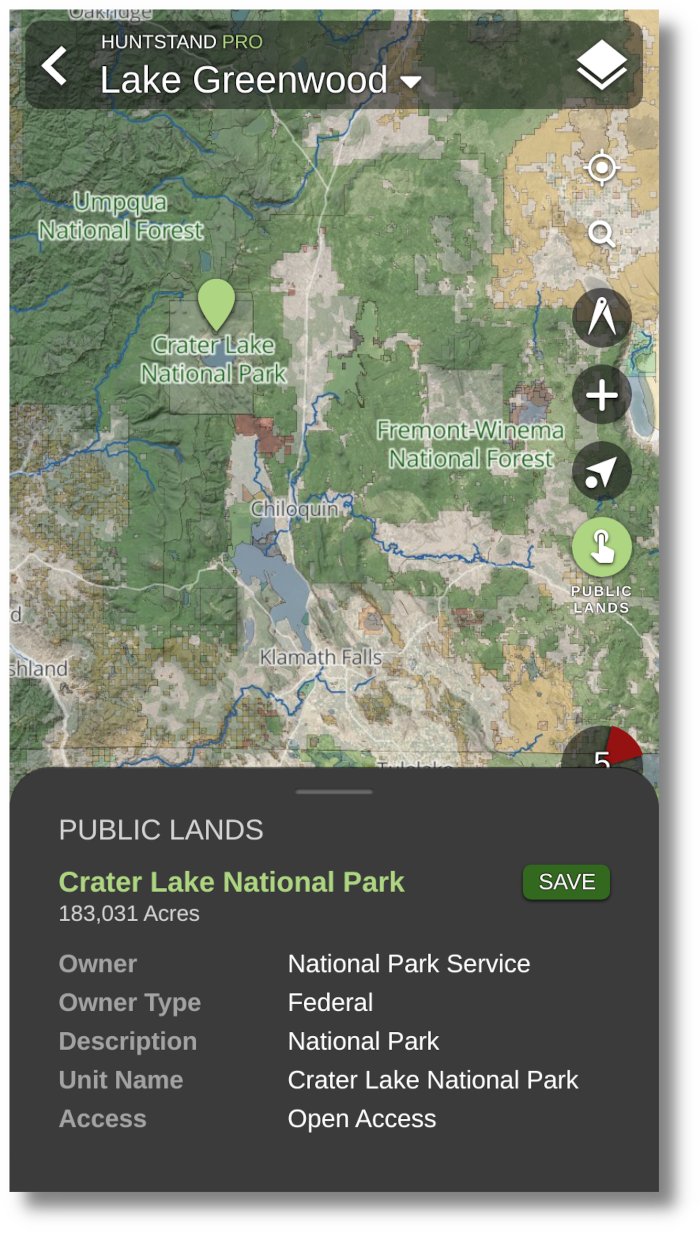 Hunting Lands
Wildlife Management Areas
Department of Natural Resources
Department of Fish and Wildlife
Game Management Units, Zones, and Districts
Managed Hunting Land: WMA (Wildlife Management Areas, DNR (Department of Natural Resources), DFW (Department of Fish and Wildlife), etc. Game managed land owned by the state or leased from private owners through fee or easement
Hunting Land: Explicit hunting land with defined boundaries where hunting is allowed
Zones: Hunt Zones, Units, GMUs, Districts, etc. Large divisions of land that cover regions and don't relate to specific property boundaries but pair with specific hunting dates, regulations, and game.
Forests: National and state forest boundaries where hunting activies vary. Typically subdivided into smaller boundaries of additional interest
State Land: State park or state managed land with varying hunting activity
Natural Land: Natural areas, conservation areas, refuges, reserves, wildlife areas, etc. Similar to Forests but with implied conservation activities and additional wildlife regulations
General: General or other boundaries that do not fall into the above categories, but are treated as defined boundaries of hunting interest
Non-hunting Land: Explicit non-hunting land with defined boundaries where hunting is explicitly prohibited or regulated
*Not Available in Canada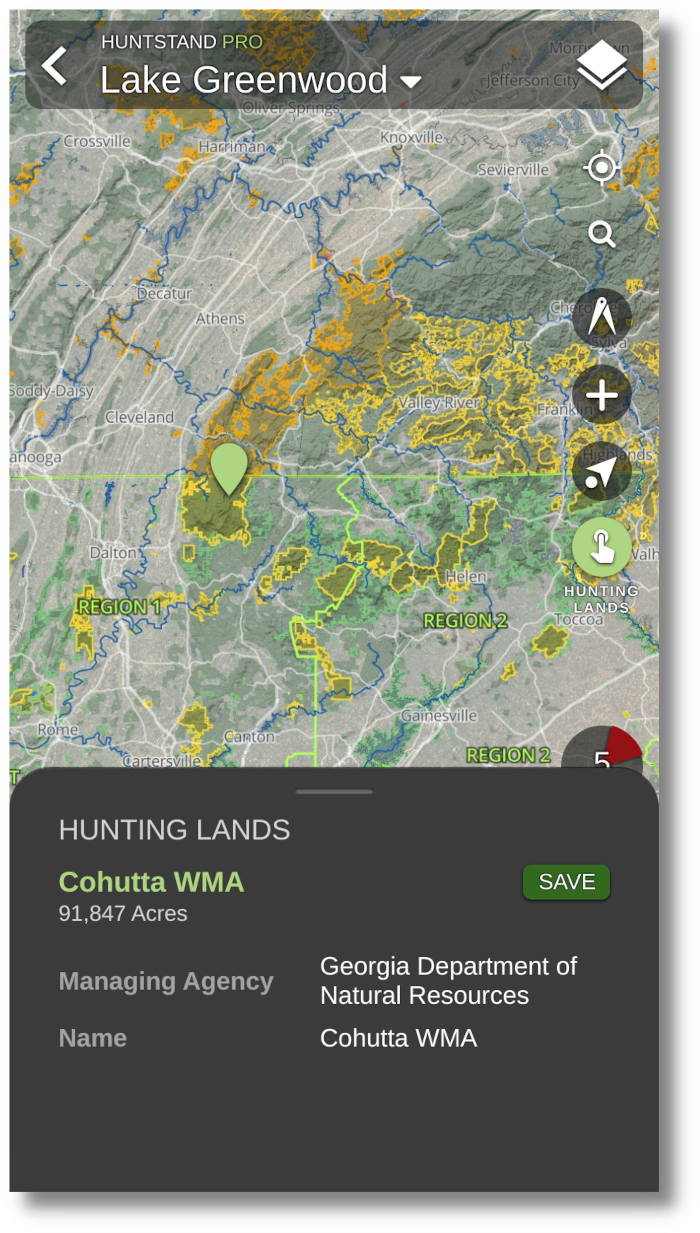 3D Mapping
Dynamic interactive 3D maps
High resolution Google Maps imagery
High accuracy elevation model
Available on iOS, Android, and Web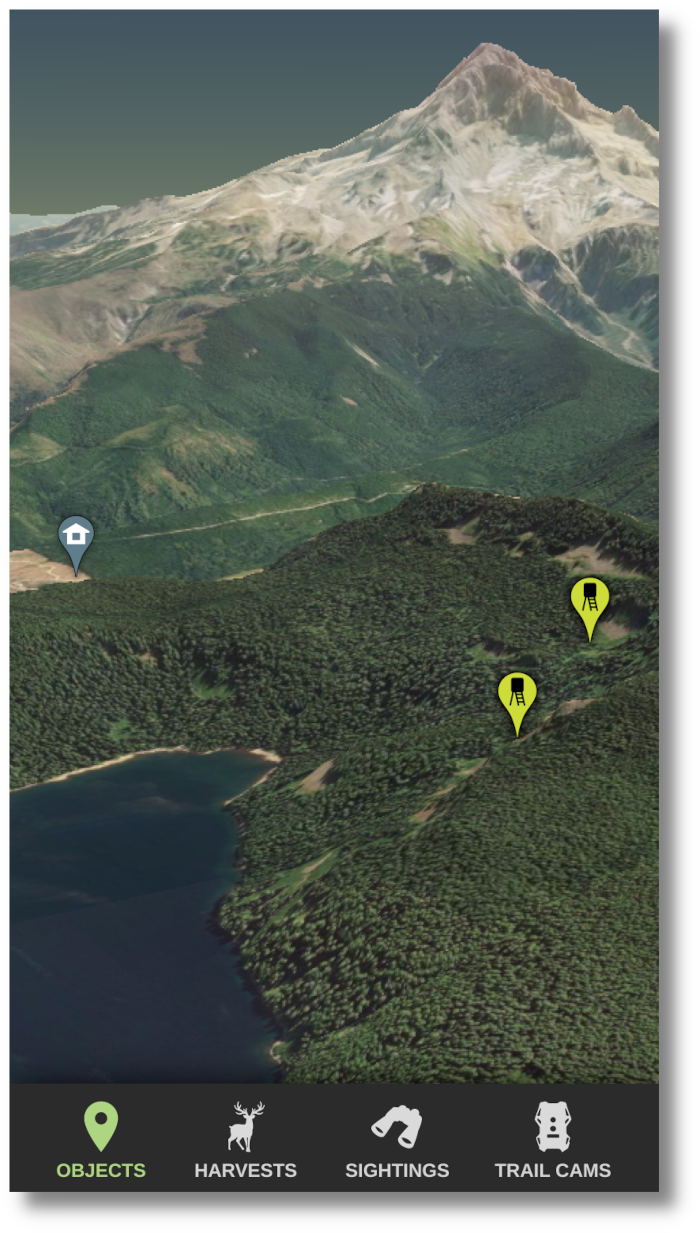 Offline Mapping
High resolution offline satellite imagery
Detailed roads and places overlay
Contour lines
Unlimited map downloads up to available device storage
Store offline maps indefinitely, or refresh them often
Stand Reservations
Use hunt area sharing to manage stand reservations on your property
Search for available stands/blinds in a hunt area by date and time
See what stands are occupied currently, and by whom
See upcoming reservations for specific stands, or all stands in a group hunt area
Manage stands in a group hunt area
Manage reservations in a group hunt area
Available on iOS and Android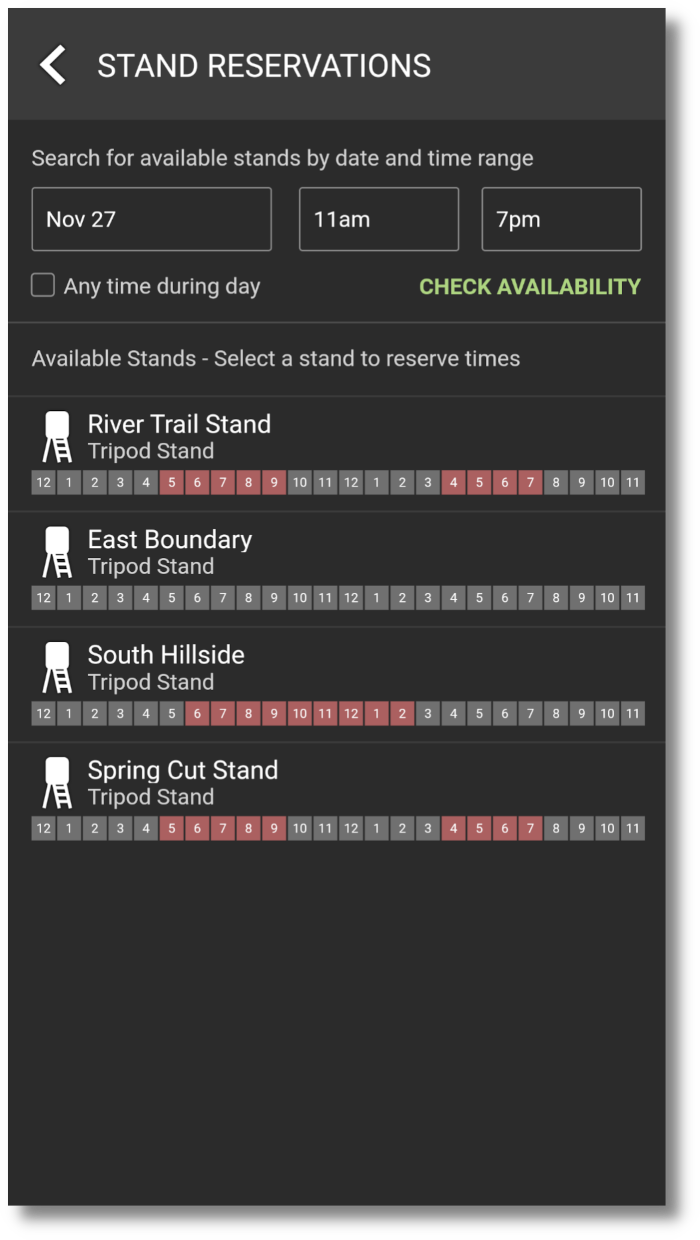 TerraPulse Tree Cover
Exclusive access to the most comprehensive tree cover and vegetation map ever offered to the public.
This layer distinguishes between trees and other types of vegetation that support big game habitat suitability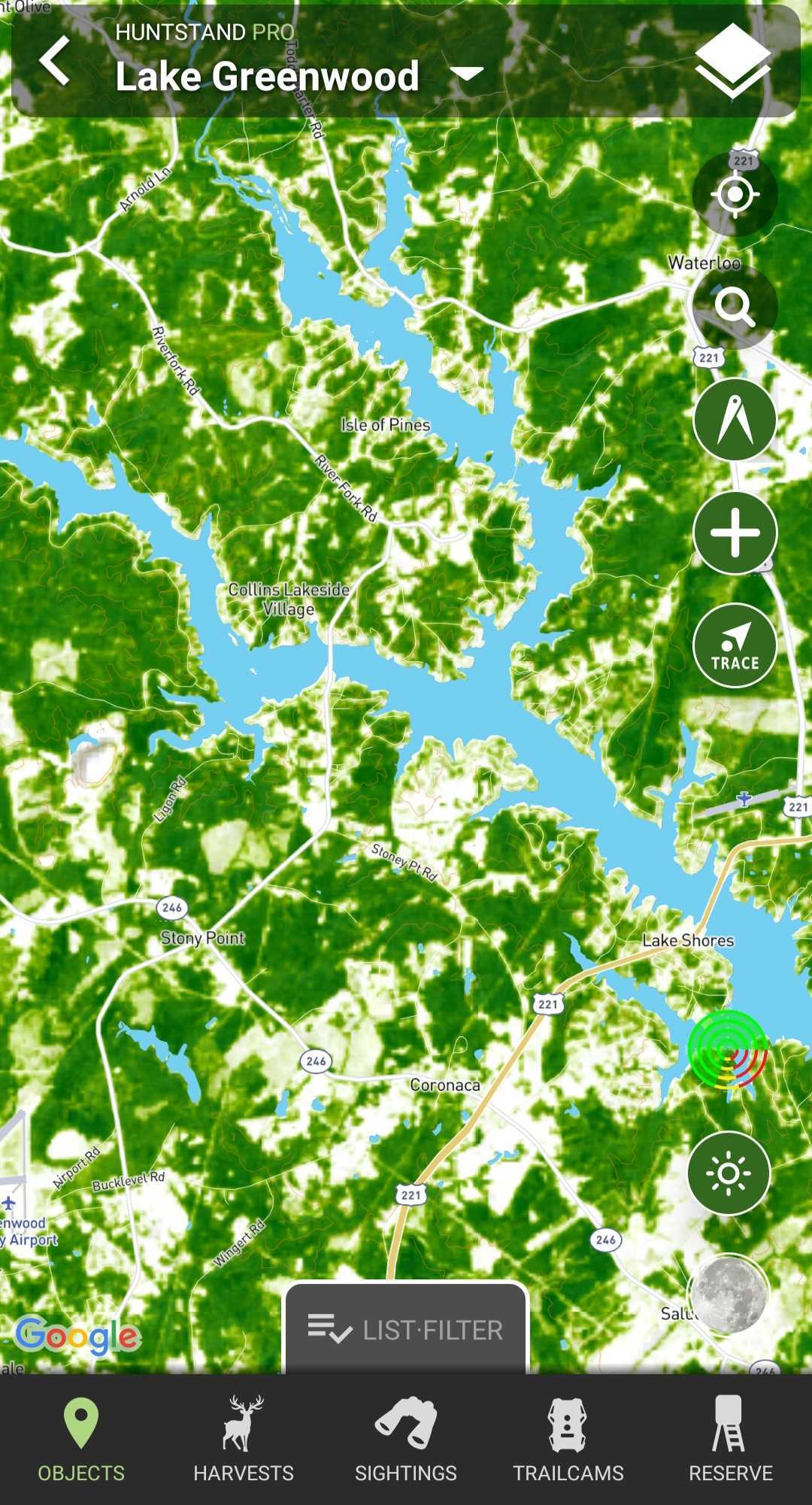 Natural Atlas
The most comprehensive and accurate map of the United States' outdoors. trails, ATV and 4X4 roads, forest roads, campgrounds, parks, natural points of interest, access locations, and more.
Trails
ATV and 4X4 roads
Forest roads
Camgrounds
Parks
Natural Points of Interest
Access Locations
More
*Not Available in Canada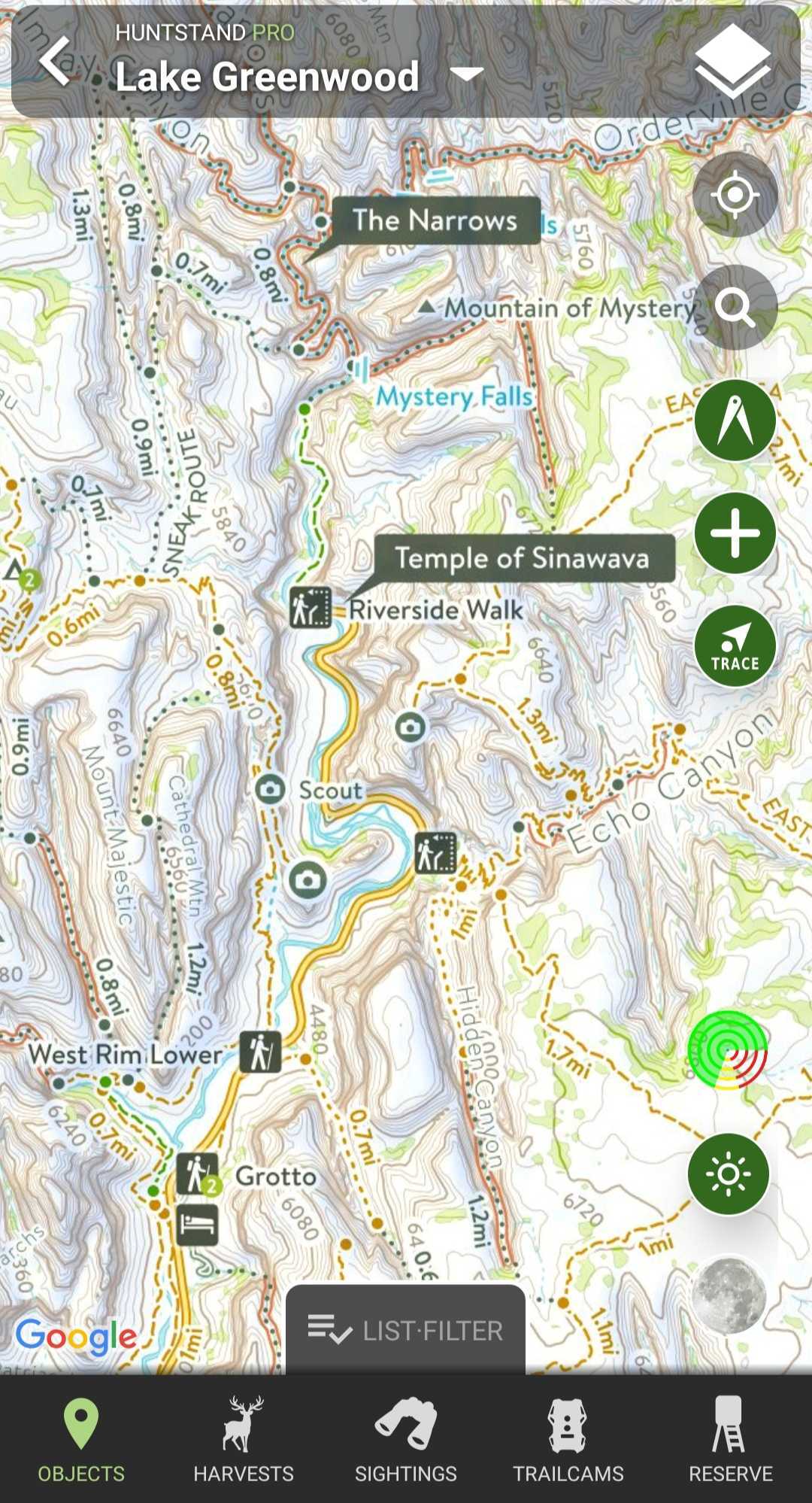 MapBox Satellite
Receive access to perfectly blended and color-corrected imagery from Mapbox, a global leader in technology.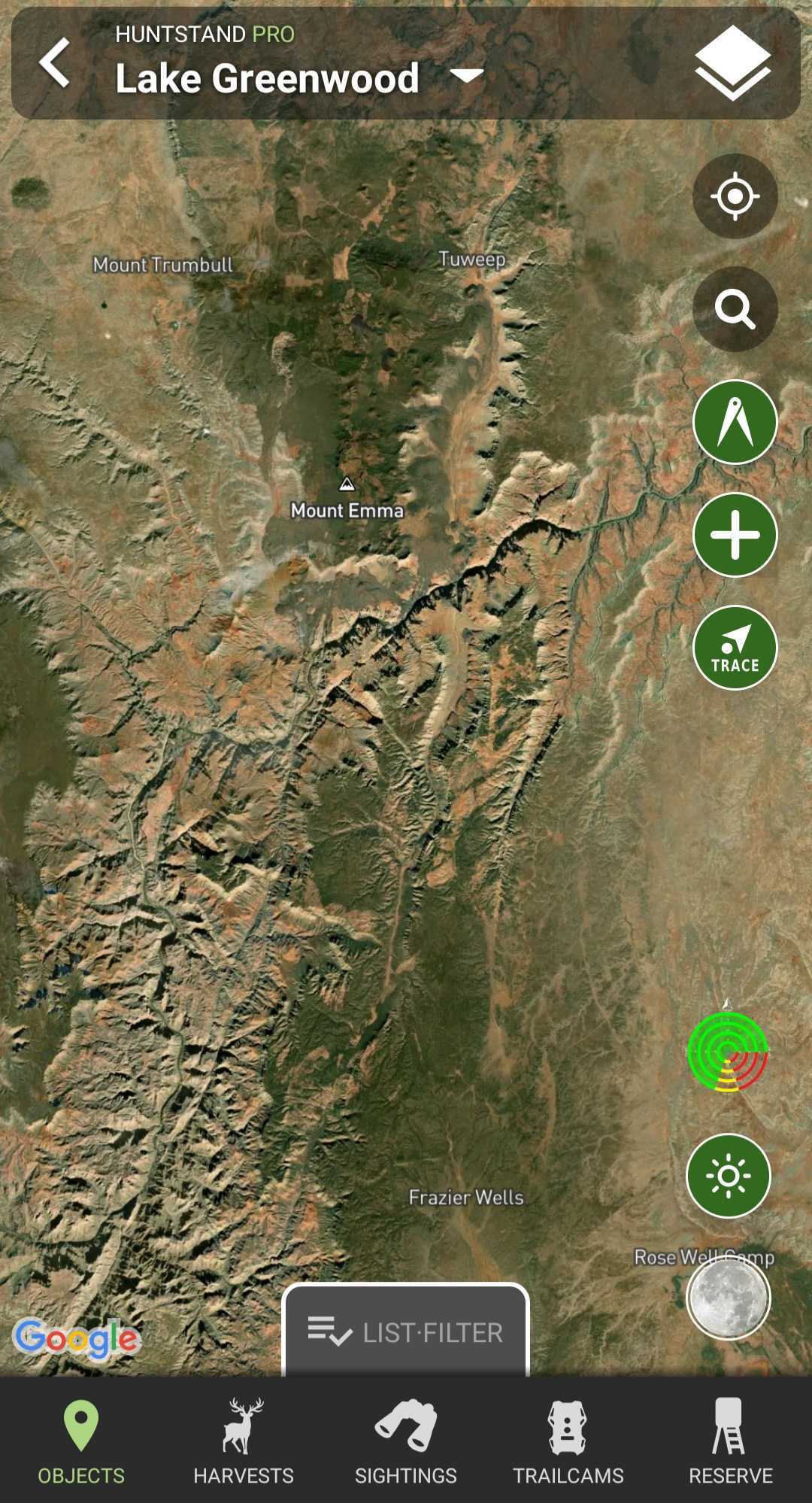 Trail Camera Pro
40GB of free storage space
Automatic animal tagging using image recognition
Detailed heatmaps of game activity and movement predictions
Unlimited custom tags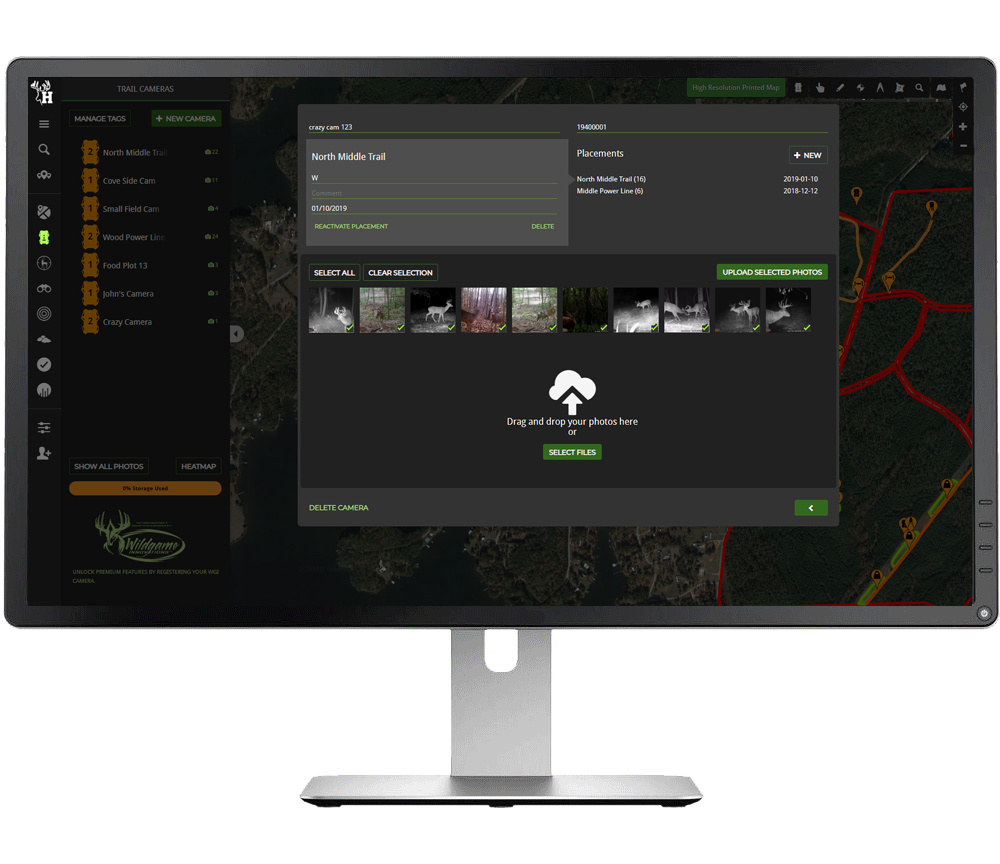 Ad Free
Hide all the ads with a HuntStand Pro subscription for a streamlined in-app experience.